Project:  Central and Southern Oregon Cascades Cone Collections Final Report
Agency/Forest or Park/District:  Southern Deschutes and Northern Fremont-Winema National Forests and Crater Lake National Park within the boundaries of Conservation Areas 701 and 802.
Project coordinator:  Chris Jensen, USFS
Contact:  Chris Jensen, Genetics and Reforestation Technician, Deschutes National Forest, Bend Fort Rock Ranger District, 541-383-4779, cejensen@fs.fed.us
Cooperators:  Southern Deschutes and Northern Fremont-Winema National Forests and Crater Lake National Park
Source of funding/amount FHP:  $6,500 in WBP funding was received. Additional funding in the amount of $3,300 was provided by an unreported source .  Only half ($3250) of the WBP funding was used due to inactivity because of the poor cone crop.
Dates of restoration efforts:  2014
Objectives:
Acres/ha treated:  Multiple managements units within two conservation areas
Methods:  We selected, caged and collected cones from 12 new rust resistant candidate trees in Crater Lake National Park.  We successfully surveyed and selected 12 new disease resistant candidate trees outside of the park within conservation areas 701 and 802.  Individual tree data was recorded to electronic select tree registers and digitally archived.  We initiated the assessment of stand level rust infection rates and over-all health conditions of the WBP populations in multiple management units.
WBP needle samples were collected from 35 individual trees in CA 701 and another population outside of CA 701. These samples were submitted to Dorena Genetic Resource Center (DGRC) for DNA analysis and archiving.
Planting? If so, source of seedlings? Resistance?  N/A
Outcome:  The over-all goal of operational cone collection was successful and implemented in Crater Lake National Park. After extensive cone surveying in the remaining portions of CA 701 and 802, it was determined the cone crop was very poor.  As a result, not all cone collection goals were accomplished outside of the Park.  These areas will be cone surveyed in subsequent years with collections made at first opportunity.
Monitoring since completion of the project:  N/A
Dates:
Plans for future monitoring?  Seed crops will be monitored in the future with cone collection occurring at first chance (2015, 2016).
Will outcome meet goals?  Because of the poor cone crop, the operational cone collection objective was only partially met. The selection of 12 new disease resistant candidate trees along with area assessment of populations will help meet the over-all goal of harnessing rust resistance and meeting restoration strategy goals.  Having a pre-selected base of candidate trees will greatly expedite future cone collection.
Future actions/follow up:  Additional health assessment and blister rust surveying is needed in portions of the CA's due to remoteness and will be accomplished as time and budgets allow.
Miscellaneous comments:  We had difficulty seeing the funds transferred down to my unit level.  The funds ended up in a general Forest FHP fund.
DNA Needle Samples Sites: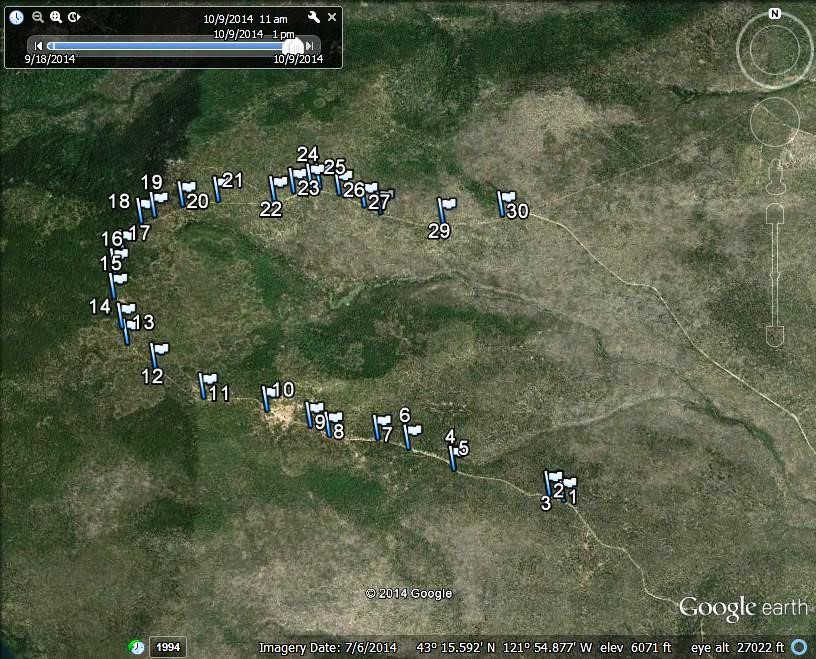 Map of Crater Lake National Park new select trees collected in 2014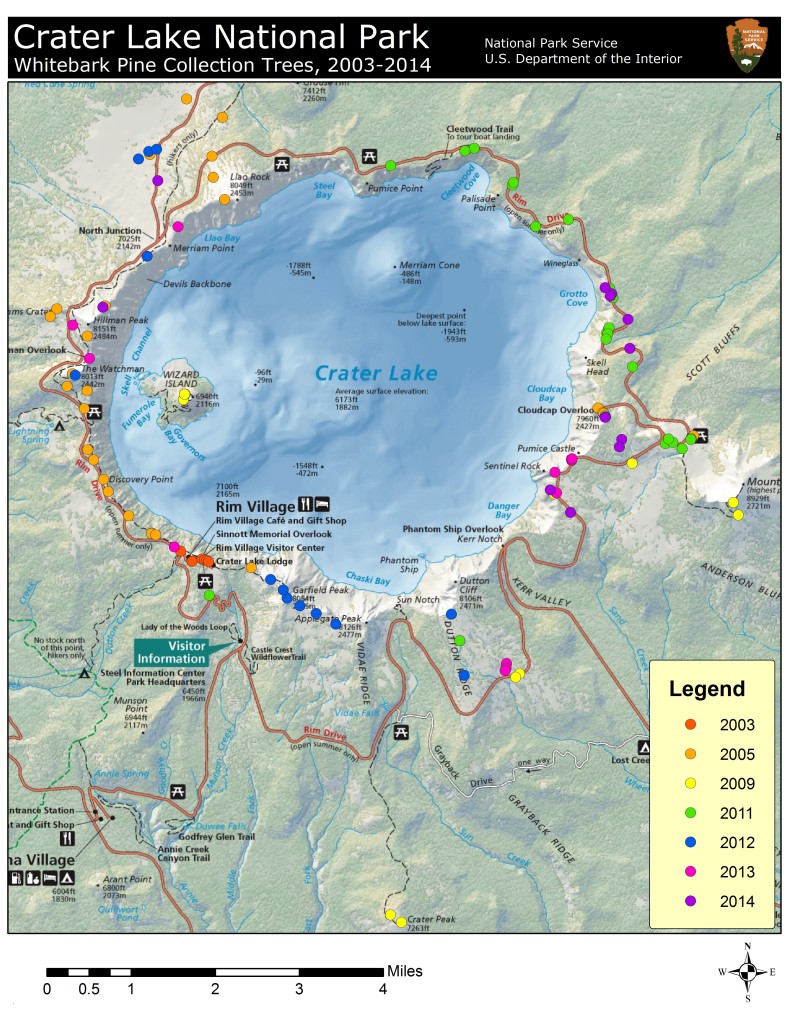 New rust resistant select tree register – MS Access Form (Front and back)